∷
Projects in other regions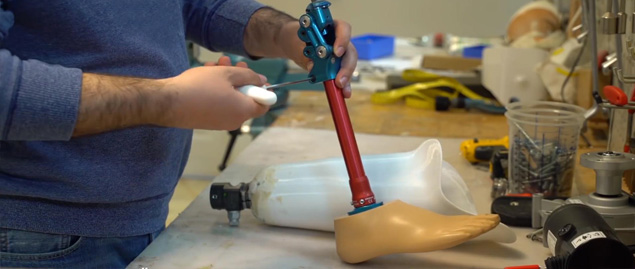 Partner Organization: China Social Welfare Foundation
Project Duration: From 2019
Project Status: Ongoing
The Syrian crisis started in 2011. It is estimated that Syria's internal military conflict resulted in more than 500,000 deaths and injuries, displaced more than 10 million people, and gave rise to more than 6 million refugees. In addition, more than 100,000 children have become disabled due to injuries sustained from the armed conflicts. This has become one of the most serious humanitarian crises in modern human history. Against this backdrop, the China Social Welfare Foundation initiated a project to provide prostheses to disabled Syrian children who do not have the means to install prostheses, in order to restore some physical functions for the children. An average of a few hundred children benefit from this project every year. Furthermore, the foundation provided a set of prosthetic production equipment to the local rehabilitation center, Khotwa Center, in 2020.
The foundation also launched a complementary rehabilitation training and exchange programme which has seen many runs. The Khotwa Association organized the training seminar in 2020. Many technicians and physiotherapists attended the seminar, learning from experts from Beijing Jingbo and the Khotwa Association. The Chinese experts provided explanations regarding the production, troubleshooting, installation etc. of the prostheses. As the Syrian team continues to grow, the project currently has more than ten engineers who are equipped with the necessary skills to provide artificial limbs to the Syrian children.
The Xu Family Charitable Foundation donated to the China Social Welfare Foundation in 2019. The funds went towards training engineers and subsidizing the expenses of the Syrian projects. This not only helped to expand the capacity and increase the impact of the Syrian team, but also reduced the production cost of the prostheses, with the ultimate goal of providing free prosthetic limbs to as many children as possible.
Partner Organization: Singapore National Eye Centre
Project Duration: Nov 2018
Project Status: Completed
The EYE Ball is an annual charity gala dinner that is hosted by the Singapore National Eye Centre (SNEC) and the Singapore Eye Research Institute (SERI). In its 8th year running in 2018, the fundraising event is held in support of VisionSave.
VisionSave was conceptualized to aid the SNEC and SERI in its objective to improve the lives of their patients. Established in 2016, VisionSave aims to leverage on philanthropic investments with a mission to save sight for needy eye patients and to transform eye care for Singapore through research and education. Beneficiaries of VisionSave include low income patients, the Mobile Eye Clinic, fellowship and supporting the next generation of doctors in leadership training, Retinal Stem Cell Biology and Therapy Research Programme and the Singapore Bionic Eye Project. The Xu Family Charitable Foundation supported VisionSave by making an outright donation and was invited to attend The EYE Ball in November 2018.
To learn more about VisionSave, visit www.snec.com.sg/giving.